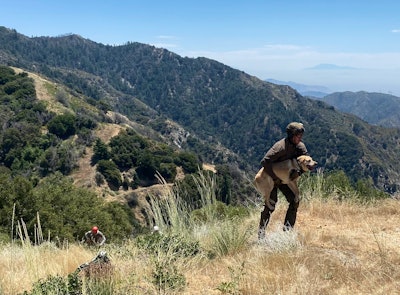 A Los Angeles County Sheriff's Department search-and-rescue dog was airlifted this Saturday from a peak in the Angeles National Forest after overheating.
The dog was aiding the Special Enforcement Bureau, LASD's elite tactical and search-and-rescue team during efforts to find a missing hiker last seen in Monrovia.
The Sheriff's Department Special Enforcement Bureau was searching near Clamshell Peak in the national forest for Colin Brian Walker, 53, according to social media posts from the bureau.
Sheriff's officials did not immediately respond Monday to questions about the dog's condition, the Los Angeles Times reports.