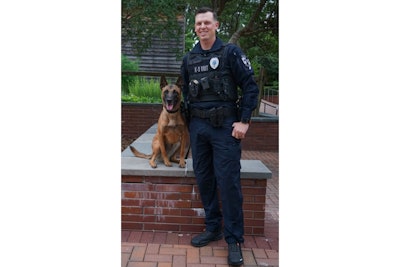 A Cary, NC, man was arrested and charged Monday in connection with a Friday vehicle pursuit through Cary and Raleigh that left a young police dog injured.
Cary K-9 Officer Dakota was struck during the chase.
The incident happened Friday when Cary police officers responded to calls about a stolen vehicle from a local dealership. A man reportedly entered the dealership and asked a salesman to test drive a Ford truck. During the test drive, he pulled out a gun and told the salesman to get out of the truck, police say.
After the stolen truck and suspect were located, officers, including K-9 Handler Officer Michael Herrell, and his partner Dakota, then ordered the suspect to get out of the truck, ABC11 The driver ignored commands and hit the gas, bearing down on the officers. As Harrell jumped out of the way, the truck struck Dakota in her head and upper body.
Dakota, a 3-year-old Belgian Malinois, was taken to an emergency veterinary hospital, and as of Monday, continued to receive medical treatment there.
Suspect, Joshua Andrei Whittlesey, 24, is in custody. He faces charges of robbery with a dangerous weapon, larceny of motor vehicle, felony fleeing to elude arrest, possession of a firearm by a felon, assaulting a law enforcement agency animal, assault by pointing a gun, hit and run, assault on law enforcement officers, and resisting, delaying, and obstructing an officer.