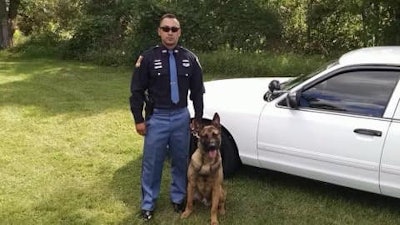 A Gary, IN, Police K-9 was shot and killed during a foot pursuit following an attempted traffic stop last week.
The Gary Police Department said the shooting happened during a foot chase just before 2 p.m., moments after the dog's handler, 17-year veteran Corporal Angel Lozano, tried to pull over a suspect wanted for aggravated battery and criminal recklessness.
Police said the suspect opened fire, striking and killing 10-year-old Falco, a Belgian Malinois. The officer involved in the foot pursuit was not injured, and a 29-year-old man was taken into custody, ABC7 reports.
"K-9 Falco served the citizens of Gary for more than 8 years. Falco assisted with many arrests, capturing some of the most violent offenders. He assisted with the seizure of numerous weapons and narcotics. K-9 Falco helped locate several missing children and endangered adults. Falco was also a member of the Gary Police Department SWAT Team," the department said on Facebook.