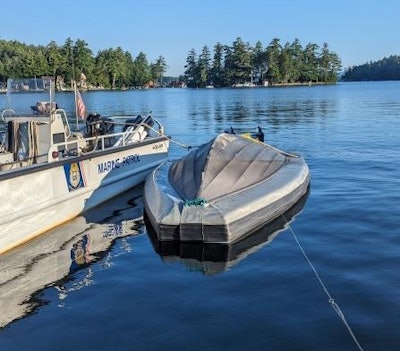 A runaway boat on Lake Winnipesaukee smashed into and capsized a New Hampshire State Police patrol boat Wednesday night.
NHSP reported in a statement that two officers responded to a call about the runaway boat at 10:25 p.m.
"Upon arrival, they found a serious boating crash with two victims in the water. The officers were able to rescue the two victims from the water, assisting them onto the patrol boat. The victims were then transferred onto a Gilford Fire Department boat that also responded to the scene. At the same time, the Officers were able to locate the uncontrolled boat formerly occupied by the victims, still running erratically on the lake."
The NHSP officers tried to stop the runaway boat by throwing a line into the water to entangle the propellers. Police say the line could have stalled the motor or at least slowed down the boat.
A first attempt failed, and when the officers made a second attempt, the driverless boat made an unexpected turn and struck the patrol boat. The impact threw the officers into the water, and it capsized the patrol boat, briefly pinning the officers under it as it was dragged by the runaway boat.
The statement said both officers were able to quickly escape and surface.
"New Hampshire State Police Marine Patrol is aware that good Samaritans, not yet identified, courageously involved themselves in the dangerous situation, both assisting Marine Patrol Officers in getting out of the water and by boarding the private vessel, that was now slowed by dragging the Marine Patrol vessel and stopping it," the statement said.