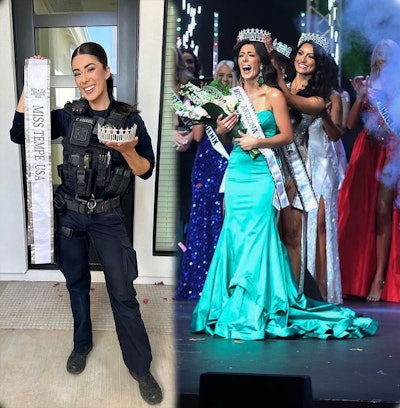 Tempe, AZ, police officer Candace Kanavel is now the reigning Miss Arizona USA.
Kanavel is a crisis intervention officer and hostage negotiator for the agency's SWAT team.
"When you look at pageant queens wearing beautiful gowns and dressing up and then being a police officer and getting out there to get your hands dirty--on the surface level they're very different," Kanavel told 3TV. "But on the inside, being on the inside of both, they're very similar."
She said communication, leadership, holding yourself to a high moral standard, and more skills are some examples of crossovers between her job and the pageant circle. As for the Tempe Police Department officers she works alongside, Kanavel said she sees them as older brothers but that they do tease her. "Yes, they do give me a hard time," she said. She said that she plans to utilize her platform "Yes, She Can" to promote confidence in women and help them develop situational awareness.