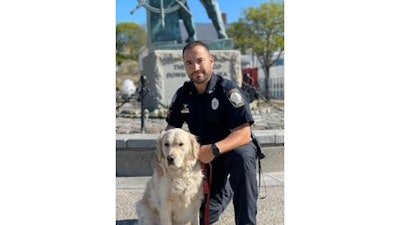 The National Association of School Resource Officers (NASRO) announced that it will present its 2023 Floyd Ledbetter National School Resource Officer of the Year Award to Officer Peter Sutera of the Gloucester (MA) Police Department. The award recognizes school resource officers (SROs) who have made specific and significant contributions to their local communities or school districts. SROs are specifically trained law enforcement officers assigned to work in schools.
NASRO will present this award and others June 30 during a ceremony in Indianapolis as part of its annual National School Safety Conference.
"Officer Sutera has truly closed gaps between law enforcement and youth through multiple initiatives of his own creation," said NASRO executive diretor Mo Canady. "For example, he introduced an online gaming program in which children across Gloucester play video games with the SRO and each other, competing for prizes sponsored by local businesses. Realizing a need for emotional support, Officer Sutera volunteered for the additional training he needed to implement a comfort dog program. And perhaps one of Officer Sutera's biggest successes is a summer fishing program he started, through which he and fellow police officers take students and their parents on half-day fishing trips. That program now runs five days a week, with a waiting list of eager participants."
NASRO also announced that it will present its National Award of Valor for acts of courage and valor above and beyond what would normally be expected, to five individuals:
Officer Rex Engelbert and Detective Michael Collazo of the Metropolitan Nashville Police Department ended the tragic shooting at The Covenant School March 27 by confronting and killing the shooter within 14 minutes of the first report of the incident.
Nathan Tietz is dean of students at Burke High School in Omaha, NE. Last January, Tietz restrained a student who was attacking other students with a knife. The student continued to swing the knife, narrowly missing Tietz' face, as the dean continued to push the attacker away.
Officer Sarah Heatherton of the Maroa (IL) Police Department single handedly subdued an armed and resistant suspect in the stabbing of another student at her high school in November 2022. The assailant was still armed with a large steak knife when Officer Heatherton disarmed and detained him. The stabbing victim suffered serious injuries in the attack.
Officer Jonathan Hobbs of the Bellevue (NE) Police Department de-escalated a potential domestic violence incident in May 2022 in which a 13-year-old student of one of his schools was an assailant. Through the rapport Officer Hobbs had built with the teen at school, he convinced her to drop an axe with which she was threatening her grandparents.
In addition to those listed above, NASRO will present the following awards during its June 30 ceremony:
The Chief Nicholas C. Derzis Safe Schools Leadership Award for contributions and dedication to an SRO program will go to Lt. Shane Wallace of the Cypress-Fairbanks ISD Police Department, Houston.
The Bridge the Gap Award for activities that demonstrate a significant commitment to positive behavioral intervention services and at-risk youth will go to Officer Juan Navarrete of the Carmel (IN) Police Department.
Exceptional Service Awards for continuous and sustained service to the school community above and beyond that normally expected of an SRO will go to:
Officer Charles McFarland, Vero Beach (FL) Police Department
Officer James Beck, Cumberland (MD) Police Department
Officer David Watts, Quaker Valley School District Police Department, Leetsdale, PA
Officer Keith Medeiros, Bristol (RI) Police Department
Officer Jared Rowley, Topeka (KS) Police Department
Sgt. Pamela Revels, Lee County Sheriff's Office, Opelike, AL
Marty Rustvold, security supervisor, Oklahoma City Public Schools, Oklahoma City
Officer Jacob Harlow, Pierre (SD) Police Department
Officer Zach Keirsey, Wilsonville (OR) Police Department
Chris Ruiz, Pleasant Grove (UT) Police Department
Deputy Director Adullrahaman Al Mamari, Dubai Police Department, United Arab Emirates
Sgt. Rudolph Pratt, Royal Bahamas Police Force
The Model SRO Agency Award for exemplifying in training, policies and standards, the NASRO triad concept — which describes an SRO's role as mentor, guest lecturer and law enforcement officer — and for demonstrating creative and innovative approaches to school-based policing, will go to:
Allen County Sheriff's Department, Fort Wayne, IN
Cambridge City (IN) Police Department, Indiana
Carmel Clay Schools, Carmel, IN
Fox Chapel Area School District Police Department, Pittsburgh
Hailey (ID) Police Department
Lafayette County Sheriff's Office, Lexington, MO
Lawrence (KS) Police Department
Ligonier (IN) Police Department
Los Lunas School Police Department, Los Lunas, NM
Sumner County Sheriff's Office, Gallatin, TN
Thornton (CO) Police Department
The International Exemplary Agency Award, for an international agency that demonstrates the same attributes as recipients of the model agency award above, will go to the Dubai Police Department, United Arab Emirates.
The SRO Social Award, for effectively utilizing social media to promote the SRO position, school, and agency, will go to Officer Adriana Nave of the Lindsay (CA) Police Department.
The National Road Safety Foundation Innovation in the Classroom Award, for demonstrating the use of innovative methods in teaching traffic safety to teens will go to Deputy David Haun of the Talladega County Sheriff's Office, Talladega, AL.
NASRO will announce later the recipient of the NASRO Instructor of the Year Award, for instructors who demonstrate excellence in teaching NASRO courses while continuously performing above and beyond the call of duty.