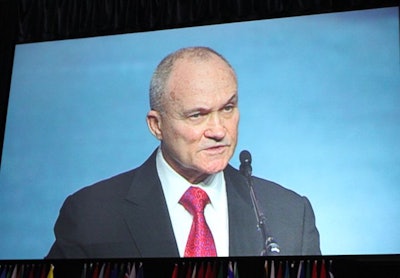 To combat "street crews" that cause more violence than transnational gangs, the New York Police Department will double the size of its gang investigative unit, Commissioner Ray Kelly said Tuesday.
As a part of "Operation Crew Cut," about 150 detectives will be reassigned to the NYPD's gang unit to grow the unit to 300 investigators who will monitor social media and develop better gang intelligence on the hyper-local crews. Members of these crews are responsible for 30% of the city's shootings, Kelly told attendees of the International Association of Chiefs of Police (IACP) trade show in San Diego.
"We'll focus those resources not on large, established gangs such as the Bloods and Crips, but on the looser associations of younger men who identify themselves by the block they live on, or on which side of a housing development they reside," Kelly said.
"Their loyalty is to their friends," he said, "and their rivalries are based not on narcotics trafficking or some other entrepreneurial interest, but simply on local turf."
He added, "In other words, 'You come in to my backyard and you get hurt. You diss my crew and you pay the price.'"
In mid-September, officers busted 49 members of two warring Brooklyn crews known as the Very Crispy Gangsters and the Rockstarz, Kelly said.

Kelly said the crews are using social media sites such as Facebook and Twitter to brag about their crimes and call for retribution against fellow members who cooperate with police.
Detectives will develop a lexicon of local gang terminology as a part of the initiative, and department lawyers will cooperate more closely with prosecutors, Kelly said.
By Paul Clinton
Related:
IACP 2012: Chief, Officer Discuss Sikh Temple Shooting