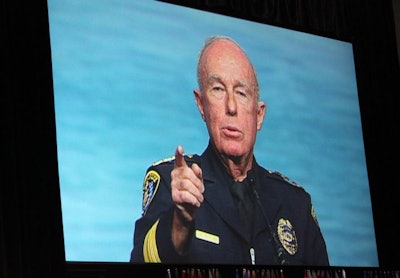 Federal and local law enforcement have worked more effectively than ever before to thwart terrorist threats in recent years, Homeland Security Secretary Janet Napolitano told attendees of the International Association of Chiefs of Police (IACP) 2012 trade show on Saturday.
Napolitano, one of several speakers to open the 119th IACP conference in San Diego, also announced a new training portal to help law local law enforcement counter violent extremism. The portal is available through the Homeland Security Information Network (HSIN).
"Every law enforcement professional in the country should have the best information, technology, and analysis available to them," Napolitano said.
Napolitano also said she was encouraged by the first meeting of the FirstNet board, which will oversee the build-out of a public safety broadband network that will enable police and other first responders to better communicate with one another during emergencies. She is a member of the board, which also includes a New York Police Department deputy chief and Iowa sheriff. The board met last week.
"We are going to solve this problem as a nation and have a public broadband network across every mile of this nation," she said.
Following Napolitano's remarks, San Diego Mayor Jerry Sanders joked that he felt somewhat nervous to have "15,000 cops running around the Gaslamp District" near the San Diego Convention Center venue. Sanders served as the San Diego Police Chief from 1993 to 1998.
Current San Diego Chief William Lansdowne told attendees they represent the "best about America" and enable citizens to pursue the American dream.
Law enforcement is "about committed people who care about giving back," Lansdowne said. "It's about the dream, and you make that dream possible every day."