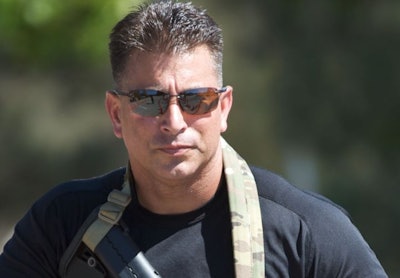 Almost two years to the day after he was critically wounded in a gunfight with a Norteño gang member, Fremont (Calif.) Police Detective Todd Young returned to the job he knows best—pursuing high-risk gang suspects.
This week, Young returned to the Southern Alameda County Major Crimes Task Force following three training days reorienting him to defensive tactics, less-lethal weapons, firearms qualification, SWAT tactics, and emergency driving.
"I've never had one person tell me I couldn't go back to work," Young tells POLICE Magazine. "This is what I do. I don't want to do anything else."
Young's doctor cleared him to return on Aug. 20, after 10 surgeries to repair wounds he suffered in the shooting and months of physical therapy. POLICE Magazine chronicled Young's recovery in "Todd Young's Long Road Back," a Web-exclusive feature that's part of the "Returning To Duty" series following the recoveries of officers hurt on the job.
Young was working undercover on Aug. 27, 2010 when a violent Norteño gang member fired 10 rounds at him at 2:30 p.m. on an Oakland street. Oakland Police officers performed trauma care on Young and delivered him to Highland Hospital, where he received life-saving emergency medical care.
By late August of this year, Young was ready to return to his assignment as a Fremont PD SWAT operator and task-force detective. On Tuesday (Aug. 28), Young attended defensive tactics training covering basic search techniques, high-risk handcuffing, and pat-down searches. The afternoon brought baton techniques and self-defense training.
"I felt great," Young said. "Everything came back really fast. It was all there."
Young also qualified with his handgun at 15 yards. He passed the shotgun and rifle courses, and worked on shooting-and-moving drills. When he was shot, Young was forced to return fire during a foot pursuit. His seven rounds missed their intended target.
"As far as firearms qualifications went, I shot a lot better than I did the day of my shooting," said Young.
On Wednesday, Young passed SWAT training that covered searching for barricaded suspects and searching for high-risk suspects. He participated with the tactical team using the BearCat during breaching and gassing techniques. Young also did a handful of burpees. His SWAT commander, Sean Washington, gave Young a warm welcome when he handed in his paperwork to return to the job.
"When I walked in with that paperwork, he had a big smile on his face," Young said.
By Thursday, Young was ready for the department's EVOC course. He ran a car through the pursuit course, skid pad, and lights-and-sirens (Code 3) driving drills.
Monday, Aug. 27, was the second anniversary of the shooting. Young headed to a community college for cross-fit training with his trainer Melanie Wade. He ran liners and did pushups, squats, and burpees.
"As I looked over to my right, I looked over into the neighborhood and I saw 'XIV' (Norteño graffiti) painted on a fence," Young said. "I just had a smile on my face. They didn't take me out, and I'm going to be back arresting gang members soon."
Later this month, Det. Young and his partner Sgt. Eric Tang will receive the Medal of Valor in a private ceremony in Fremont.
By Paul Clinton
Related:
Shots Fired: Oakland, California 08/27/2010