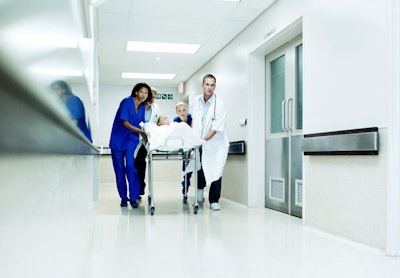 Editor's note: This is the second installment of PoliceMag's "Returning To Duty" Web-only series about the challenges officers face getting back to police work after sustaining injuries on the job. Read the first installment here.
The trauma team that loaded Fremont (Calif.) Police Officer Todd Young onto a gurney at Oakland's Highland Hospital didn't initially realize just how close the lawman—who had suffered a critical gunshot wound—was to death on that warm, August Friday.
The 39-year-old Young was in SWAT shape, and had trained his body to fight through adversity and mask the trauma he suffered.
Young had been working undercover earlier that day in one of Oakland's most violent neighborhoods. He wore a T-shirt and jeans with his badge hanging around his neck and carried a .45-caliber SIG Sauer 220 pistol in a drop-leg holster. Shortly after 2:30 p.m., a gang member shot Young during a foot pursuit.
When Young arrived at the hospital, his vitals didn't raise undue concern, 160-over-100 for blood pressure and a heart rate of 85 beats per minute. Because his heart rate was so slow for the conditions, doctors believed he hadn't lost a lot of blood. For most trauma patients, a higher heart rate signals blood loss because the heart works harder when the body has less blood.
Young was admitted into the ER where Highland trauma surgeon Dr. Javid Sadjadi decided to send him for a CT scan. His face had grown pale, and the CT image showed a pelvic entry wound and exit wound above his left buttock. The large dark spot on the image showed blood pooling inside his body.
That dark spot was caused by a bullet fragment that pierced Young's iliac artery located deep in his pelvic region. Dr. Sadjadi now knew why the wounded officer was so pale; he was bleeding out. Young was rushed into the operating room. On the way, he called his wife, Nicole, to reassure her.
During the next 51 days, Young would undergo eight surgeries, spend 19 days in a coma, and inspire hundreds of officers to donate blood on his behalf.
Now as he recovers, Young is keeping his eye on the prize. However long it takes, he wants to get back to chasing high-risk bad guys on the gang task force and rejoin his department's SWAT team.
"I'm not going to be a victim, and I'll help other people who can't help themselves," says Young. "I just believe in keeping the public safe. I just believe in actively seeking criminals. That's what I do."
Officer Down
On the afternoon of Aug. 27, 2010, Officer Young and his partner Eric Tang rolled into East Oakland in their surveillance car. As members of the Southern Alameda County Major Crimes Task Force, the officers were looking for Andrew Barrientos, a member of DeCoto 14, a Union City Norteño gang known for its violent threats against law enforcement.
Barrientos, 21 at the time, had threatened to kill his ex-girlfriend and infant son, and Young knew where to find him. A tip led Young to "the nicest house on the block" on Auseon Avenue between Olive and Birch streets. He was told to look for a granite walkway, a rarity in that low-income neighborhood. Young spotted the house, and then spotted Barrientos standing near a black Chevy Avalanche parked at the curb.
Young yelled, "Police! Police!"
Barrientos bolted toward Olive, turned the corner, and began to head up the street. He turned and fired at the pursuing officers with a Glock 9mm he jerked from his waistband.
Barrientos fired 10 rounds, one of which struck Young in the pelvis. The officer replied with seven shots but missed his moving target. Young moved to the sidewalk and kneeled, so he could apply direct pressure to the wound.
Almost immediately, Officers Michael Igualdo and Nancy Cercedes rolled up in their black-and-whites, answering Officer Tang's call for help. Igualdo pulled a first-aid kit from the trunk of his cruiser and began applying QuikClot gauze to Young's wound to accelerate clotting.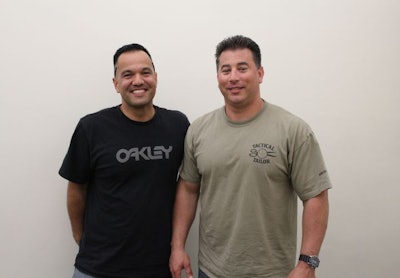 Igualdo knew Young couldn't wait for an ambulance and called for a "load and go" when a sergeant pulled up in a cageless supervisor vehicle. During the bumpy ride to Highland, Officer Cercedes asked Young about his children and his 40th birthday, as he rode in the back seat. Anything to keep Young's mind off the gunshot wound.
"We were trying to save a dying man's life," Igualdo says later about his decision to not wait for the ambulance. "If you believe you can get [the downed officer] to the hospital faster than an ambulance, then it's best to transport."
On the ride, Young grew pale. His mind raced with thoughts about catching Barrientos. Police radio traffic in the car chirped questions about the shooter's identity, and Young called out the shooter's name, date of birth, and warrants.
In the OR
Once he reached the operating room, Young's condition deteriorated.
"In the OR, we were trying to stabilize the patient," Dr. Sadjadi says. "With gunshots to the torso, the thing that kills people first is blood loss. That's the issue you have to address during the Golden Hour."
The "golden hour" is how trauma doctors refer to the time they have to save a patient with severe bleeding from a devastating injury. Young reached the operating room about 30 minutes after he was shot, which didn't give Sajadi much of a margin.
The OR staff opened up Young and saw the severe bleeding firsthand. Sadjadi began to tie-off the damaged artery, and once it stopped, Sadjadi began stuffing absorbent laparotomy pads into Young's abdomen to stop the bleeding.
Anesthesiologists continued feeding blood into Young intravenously. "My goal was to plug the sink, and their job was to keep the sink filled," Sadjadi says. Doctors fed 64 units (or pints) of red cells and another 40 units of platelets and plasma into Young—or more than five times the amount of blood in the human body—to keep him alive.
Young needed so much blood that the American Red Cross packed additional units into a cooler and sent the blood to Highland's OR via taxi.
Newspaper accounts of the incident brought a flood of calls to the Red Cross from law enforcement officers wanting to donate blood to help save Young. The response was so overwhelming that the Northern California Blood Service Region's Oakland donor center often resembled a police substation.
"People really came out to support Todd," says Sara O'Brien, the center's spokesperson. "We had weeks of blood drives. Everyone would like to know it was their unit that saved the police officer. But we need all types of blood."
Taking Down the Shooter
As doctors worked to save Young, his assailant, Barrientos, fled in a green Mazda 626 sedan he had carjacked from a convenience store a block away from the shooting. His mother told police that her son called her to tell her he had shot an officer. He then headed to meet a friend.
VIDEO: Shots Fired: Oakland, Calif., Carjacking
Once he reached his compatriot, Barrientos reloaded his Glock, packed a bag of shirts, socks, and toothpaste, and headed toward the U.S.-Mexico border. Police located Barrientos' cell phone in San Diego near the San Ysidro port of entry by 3 p.m. the day after the shooting. His exact location was still unknown.
San Diego police sergeant Jason Wheedon received a description of Barrientos and the vehicle. He then printed out about 20 fliers of Barrientos' driver's license and headed into the area to search for him.
Wheedon exited the freeway at Camino De La Plaza, the last off-ramp before the Mexican border, where nearly 20,000 people cross a day. It was at a red light that Sgt. Wheedon looked up into his rearview mirror and spotted a familiar face riding shotgun in a gray Camaro.
"The passenger was Barrientos," Wheedon says. "He was sitting there with a white hoodie. I looked down at my stack of papers and said, 'That's going to be him.'"
Wheedon maneuvered behind the Camaro and ran the plate. A dispatcher informed him the vehicle was registered to an Oakland address. Wheedon tailed the Camaro into the parking lot and positioned his patrol car behind the suspect vehicle.
Barrientos exited the vehicle.
Wheedon called out to the suspect. "I said, 'Barrientos,' and he looked at me," Wheedon says. "I drew my weapon and told him, 'Don't move and turn away.' He complied and raised his hands."
Months of Pain
Young spent seven weeks at Highland, and endured eight surgeries. The initial surgery stopped the bleeding. Once he was stabilized, doctors used the sedative drug Versed to induce a coma to allow his body to heal. A second surgery repaired his bladder. A third addressed damage to his rectum.
The trauma to Young's body from the shooting and the surgery was severe. For seven weeks, he was hooked up to a colostomy bag to catch his waste. He took his nutrition through a feeding tube. And once he came out of a coma, Young had to learn to walk again.
Nearly two months after the shooting, Young was discharged from the hospital and went home to the care of his wife, son (now 10), and daughter (now 6). But his visits to the doctor weren't over, as he went through a colostomy reversal surgery in February 2011.
Young rehabbed; Barrientos went to trial. And with the help of Young's testimony, the prosecutors won their case. On November 2011, a jury found Barrientos guilty of attempted murder of a police officer. In late December, an Alameda County judge gave the gang member two life terms.
Getting Stronger
Young's rehabilitation has been grueling. At first he had to relearn how to walk. He can now run a 12-minute mile and has added strength training. Running longer distances is harder on his hips and he still gets a numb foot, but in January, he ran the obstacle course used for the Fremont PD's SWAT qualification under the supervision of a physical therapist.
"I started lifting weights and getting strong because I didn't want to be that officer who pulled up on a car stop to help you, and then you say, 'Oh, he's hurt. He's going to be more of a liability than anything.'"
Young's tenth and final surgery was conducted earlier this year. The stitches of his abdominal incision had ripped out when he struggled to wake up from the coma. In January, a surgeon at Stanford University Medical Center used pig mesh and a skin graft to hold his stomach in place.
When told of the procedure, Young joked, "So you're going to put pig into a pig?"
Young cracks jokes to deal with his medical issues, but he is as determined as they come. Doctors informed him he has recovered to about 60-70% of what he was physically before the shooting.
He takes physical therapy under the direction of Dr. Chris Chung at the South Bay Sports and Preventative Medicine clinic.
Young plans to return to light duty in August in an administrative role. He keeps working toward his goal of returning to the regional task force and Fremont PD SWAT team, a feat that will require him to pass the agency's grueling SWAT training. Young has circled early 2013 on his calendar. That's when he hopes to test his mettle.
"Even though my doctor said I'll be 60% of what I was, my body will continue to heal and get stronger," Young says. "My body will compensate. I will be able to do all the stuff I need to do."
Related:
Shots Fired: Oakland, California 08/27/2010
Returning To Duty: Todd Young (photos)
Returning To Duty: Officer Recovers After Being Struck by Drunk Driver