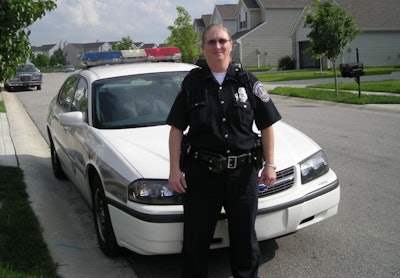 Editor's note: This is the first installment of PoliceMag's "Returning To Duty" Web-only series about the challenges officers face getting back to police work after sustaining injuries on the job.
In the perilous moments after she was initially struck by a drunk driver, Indianapolis Metropolitan Police Officer Deanna Pulley could think of only one thing—her 18-year-old daughter Talor.
The incident began when Officer Pulley and her partner Officer Cristin Rudell responded to a disturbance call at a Southside Indianapolis bar on Jan. 30, 2011. The officers contacted 31-year-old Michelle Marsh behind the wheel of her car. Marsh ignored the officers' commands to turn off the car and instead threw her car into reverse. The rear tire caught Officer Pulley's foot, throwing her over the car.
Marsh pulled her car forward and reversed again. As Officer Pulley moved sideways, she watched the tire catch the tip of her left foot. Two of the vehicle's tires were on top of her in an instant.
"I watched both tires drive off my arm and off my head," she said. "At that point, I crawled past an empty parking space and backed myself up so I was standing. I looked out and my foot was pointed one way and my body was pointed straight."
Officer Rudell stepped between her injured partner and Marsh, firing two shots into the vehicle as Marsh fled the scene. Marsh was later arrested and pled guilty to aggravated battery and driving with a suspended license; she was sentenced to 12 years.
As Officer Pulley lay injured, her mind went to her daughter Talor, who was graduating high school in May.
"I kept thinking I have to see my daughter graduate," she said. "I was having trouble breathing."
Officer Pulley was badly injured with three broken ribs, a lacerated liver, bruised diaphragm, and concussion. It would have been worse had she not been wearing her ballistic vest. Compound fractures in the tibia and fibula in her left leg caused bone to exit her left ankle. Broken bones in her left arm formed two camel humps under the skin.
An ambulance rushed Officer Pulley to Wishard Memorial Hospital's Emergency Room, where doctors performed surgeries on her arm and leg. She would spend eight days in the hospital's Intensive Care Unit. Plates and screws were installed in her leg and arm to stabilize the bones. Doctors gave her a blood transfusion, after her liver enzyme count dropped.
Once medical staff stabilized Officer Pulley, she was given the choice. Spend several weeks at a rehab hospital or complete her rehab at home. As a single mother, she chose to return to her second-story apartment to spend more time with Talor.
When her landlord refused to move her to a ground-level apartment, a lieutenant at the department offered to refurbish a rental house that had been sitting vacant. Other shift officers helped move her and her daughter into the house.
By March, Officer Pulley was able to drive herself back and forth from her physical therapy appointments. She had made up her mind. She would return to patrol the streets of a city she had patrolled since early 1989.
"I knew I had to recover," she said. "I've been in police work almost my entire life."
Around that time, doctors found a third fracture in her arm, after a CT scan and MRI test. In April, her orthopedic surgeon told her one of the arm fractures wasn't healing. New hardware was installed. In May, Officer Pulley began light duty at the station to handle the department's time cards. Her stubborn tibia was also slow to mend, so doctors, in August, performed a fourth surgery on her left leg that included a bone graft.
Being laid up took its toll, yet Officer Pulley kept her mind on her daughter and her co-workers.
"There were times I'd turn on the radio to make sure they were OK," she said about her colleagues. "I missed being out there. I missed doing the things that I did."
By November, the department's doctor declared her fit for duty. She completed a fitness test required of all officers on leave for longer than six months. After performing several simulated traffic stops at the department's EVOC course, Officer Pulley went back to working the late shift, from 9 p.m. to 6 a.m.
Her surgeries were still not over. In February, she went back for a fifth surgery, so doctors could install a smaller plate in her arm. She expects to have the leg plates taken out later this year.
Officer Pulley is now working the day shift doing what she knows best, and she's truly grateful for the support she received from her law enforcement family.
"I realized I had this whole extended family and it meant something to me," Pulley said. "It was important for me to get back to work to help somebody else out."
Related: