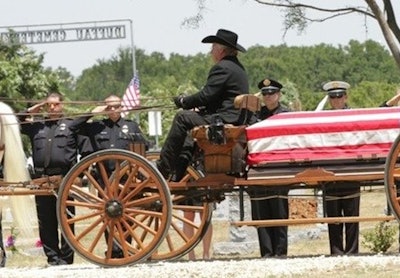 Hood County (Texas) Sheriff's Sgt. Lance McLean's empathy, willingness to help and his mischievous sense of humor were remembered Tuesday as hundreds of people—including officers from around the state—filled Hico Tiger Stadium to pay their respects.
Sgt. McLean, 38, was shot in the head Friday by Ricky Don McCommas, 49, as he answered a disturbance call in a subdivision outside Granbury. He died on Saturday. McCommas fled to Granbury and was fatally shot outside City Hall after wounding Granbury Police Officer Chad Davis, who was released from a Fort Worth hospital on Monday afternoon and attended McLean's funeral in a wheelchair, flanked by officers.
A loving father with two special-needs children, Sgt. McLean was described as someone who made people laugh whether he was on duty or off.
Members of the Hood County SWAT team donned red bandannas for Sgt. McLean—a team member who always wore one around his neck, much to their commander's chagrin. SWAT team members kneeled in front of the casket and served as pallbearers, carrying the casket off the field.
Read the full Fort Worth Star-Telegram story.