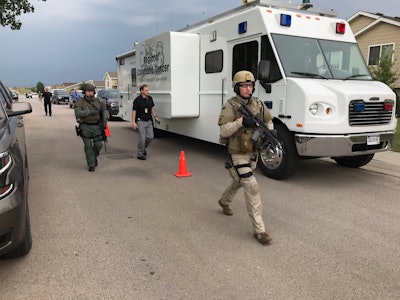 A South Dakota man has been arrested and faces numerous charges stemming from an incident in which he allegedly shot at police officers and took hostages in western South Dakota, according to the Sioux City Journal.
The Pennington County Sheriff's Office posted on its Facebook page a message indicating that "Box Elder Police officers responded to a report of a man screaming" and made contact with the man.
The subject then reportedly produced and fired a handgun, and then fled on foot to a nearby yard where he took two people hostage for a short period of time. Police closed in on the home and the suspect ran away, allowing both hostages to escape.
The Rapid City/Pennington County Special Response Team was mobilized as law officers narrowed the search to four houses. Pennington County patrol deputies rescued a young girl from the second story of the home where the suspect was eventually arrested.
After speaking with SRT negotiators, 31-year-old Justin Grant Littrell surrendered to police and was safely taken into custody.
Other responding agencies included the Box Elder Police Department, South Dakota Highway Patrol, Rapid City Fire Department, and Emergency Services Communication Center.