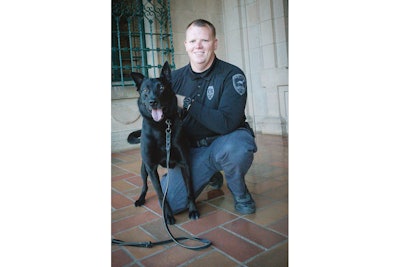 Officers with the Yuma (AZ) Police Department are mourning the loss of K-9 Bolo, who has succumbed to cancer at seven years old.
"It is with great sadness that we inform our community of our K9 Bolo's passing," the agency said on Facebook.
"Bolo was recently diagnosed with cancer and it spread rapidly," the post continued. "Officers and civilian personnel from YPD, local agencies and YFD lined up 5th Avenue with their lights on and provided a safe passage to Bolo as he was taken to Desert Vet. Bolo took his final walk with his toy in his mouth alongside of his handler, Officer Linville, and Officer Linville's wife."
Bolo's career accomplishments include 537 deployments that included building and vehicle searches and narcotic detection that took illegal drugs, paraphernalia and guns off the streets of Yuma. Bolo also had a successful bite apprehending a suspect.
The post concluded, "The Yuma Police Department thanks Bolo for his hard work and dedication to this department. Bolo was not only a hard working K9, but he was also a member [of] Officer Linville's and YPD's family. Rest in peace K-9 Officer Bolo, you will be dearly missed."