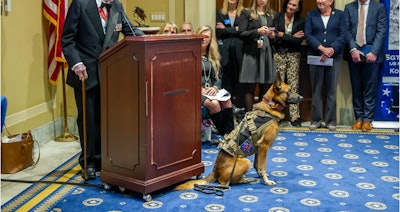 A California organization has established a medal of honor for heroic animals, including military and first responder animals.
The organization called War Animals: The Unsung Heroes held its first Animals in War & Peace Medal of Bravery ceremony in Washington, DC, last week, honoring two living dogs as well as posthumously honoring three dogs, a horse, and two carrier pigeons.
The two living dogs that received the medals are Bucca, a New York Fire Department accelerant detection dog who has aided in the investigations of numerous arsons and dozens of murders; and Bass, a Marine explosive detection dog that served four deployments in Iraq, Afghanistan, and Somalia. Bass is now retired and living with his handler Staff Sergeant Alex Schnell.
In more than 400 searches, raids, and other military operations, Bass never had a Marine die on his watch, Schnell told the Washington Post. Last month, he and Schnell left active duty.
Other animals honored included: a horse that was wounded in the Korean War and still carried ammo up the mountain to the troops and wounded soldiers down the mountain; and two pigeons that carried vital messages in World War I.