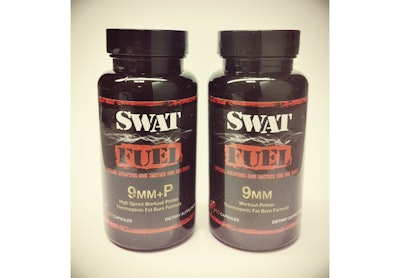 Scores of bars, pills, powders, and drinks are said to boost energy and improve workouts. But even products that make good on these claims are made for recreational athletes, not professionals.
Medical doctor and longtime SWAT medic Dr. Dan Olesnicky has stepped in to fill that gap. With his company SWAT Fuel, he has developed the first product in a comprehensive line of supplements to aid military, law enforcement, and shift workers in efficiently using and maintaining energy.
"A lot of what's out there is snake oil," says Olesnicky. "I wanted to create a good, honest product line that optimizes performance and helps you extend your career."
Olesnicky knows of what he speaks. When he isn't working as a SWAT doctor or a reserve officer with a Southern California police department, he gives seminars. As a principle instructor with the International School of Tactical Medicine, he provides information at conferences about proper nutrition to enhance job performance.
Officers consistently ask him questions about supplements because it's so difficult to decipher ingredients and determine the best ones for what Olesnicky calls "occupational athletes." They urged him to develop his own products that were designed for their needs. In response, Olesnicky has been working on a solution for the last six years.
"What we've looked to develop is something that will not only enhance your physical performance, but that will hopefully prolong your life, as we stress our bodies more than most people ever will," Olesnicky says.
SWAT Fuel's entire line of products is designed to provide the right nutrients at the right time, taking into account the continued stress level shift workers put on their bodies, especially night shift workers.
The first entry is a pre-workout formula that comes in a pill for convenience and is available in two versions: 9mm and 9mm+P. Both contain caffeine to act as a stimulant, but the +P version also contains bitter orange extract, a natural appetite suppressant. This helps curb snacking that's a natural tendency on night shift, and can also be helpful between meals during the day. In fact, 9mm+P can be used simply as a weight-loss supplement. But if you're not looking to lose weight and just need a boost for your workout, stick with the 9mm pill.
Both 9mm and 9mm+P provide an energy boost, help blood flow, get needed nutrients to the muscles, and help you use fat as a fuel source, Olesnicky says. Using fat as fuel gives you more endurance instead of the body's natural inclination to use muscle glycogen once you start to get tired.
"As we get older, and I realized this when I was in the police academy in my 40s, we need some extra help to really be able to get through everything," says Olesnicky. "This type of supplementation really fits the bill."
SWAT Fuel 9mm pills come with suggestions for how to maximize their use, including drinking water during a workout, eating lean protein after exercising, and taking additional supplements at the same time. "If you want to enhance the utilization of the product, then you can add other supplements. But they're not necessary," Olesnicky says. "The only thing that's necessary is that you make sure you hydrate, hydrate, hydrate."
Soon, other products in the SWAT Fuel line will be available to use in concert with the 9mm pre-workout formula, and 10% of profit from any sale goes to charities related to the military and law enforcement. A total of at least 12 products are planned, with the last scheduled to roll out at the end of 2013. Components will include a liquid hydration formula that can be used during a workout or double as a liquid meal when necessary, a flavored protein formula for after exercise, vitamins to protect against illness, and a sleep aid.
The company's Website will also feature a new workout each month to enhance functional ability in conjunction with the SWAT Fuel line, says Olesnicky. "It's an entire system we're designing to dovetail together."