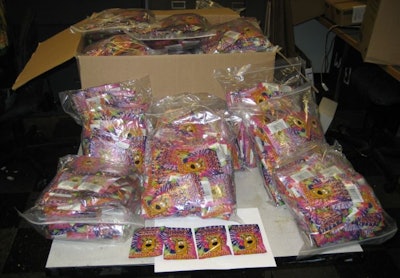 A Chicago Police specialized narcotics unit seized nearly 40 pounds of "Scooby Snax" synthetic marijuana in packages emblazoned with the cartoon character Scooby-Doo's face.
The Chicago Police Department's Package Interdiction Team discovered thousands of foil packets of the synthetic marijuana inside a suspicious package bound for the Chicago area. A commercial package carrier identified the package, and a Chicago PD spokesman declined to provide the location of the seizure.
The individual packages were emblazoned with an image of the cartoon character Scooby-Doo and were labeled "Scooby Snax 4G" in an effort to "market this dangerous product to a younger demographic," according to a release.
The package contained approximately 16,783 grams (or about 37 pounds) of synthetic marijuana, which carries an estimated street value of more than $265,000. No arrests have been made and the case remains under investigation.
Related: