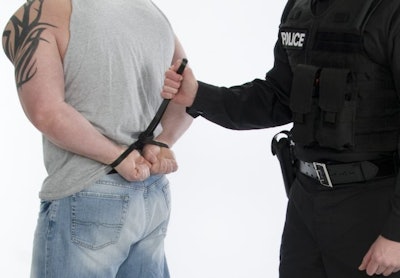 The National Tactical Officers Association (NTOA) has recommended Milspec Plastics' Cobra Cuffs, which received a 4.88 out of 5.0 score via the Member Tested and Recommended program.
Cobra Cuffs, a patented, disposable restraint system allow officers to quickly subdue suspects. The Cobra Cuffs are compact, foldable and easy to store on a MOLLE system or tactical vest. The cuffs allow the officer to quickly restrain a suspect without undue manipulation while the riveted straps provide extra leverage to control suspects.
A double-lock reduces liability due to any accidental over-tightening common with standard zip ties. The tactical, pick-proof double cuff comes in a variety of colors for color coding suspects during large arrest or detainment situations. The disposable Cobra Cuffs reduce the transfer of disease by eliminating reuse. Cobra Cuffs also offers reusable Blue Trainer Cobra Cuffs for product familiarization by officers without loss of product during training.
Cobra Cuffs received a perfect score of 5 for design, performance, ease-of-use, size, versatility, convenience, application, comfort and accuracy. Cobra Cuffs are sold six in a pack for $16.98. Available colors are white, black, tan, yellow, orange, red pink and O.D. green.
The National Tactical Officer Association Member Tested and Recommended program allows manufacturers to have their products tested in the field by the law enforcement community.