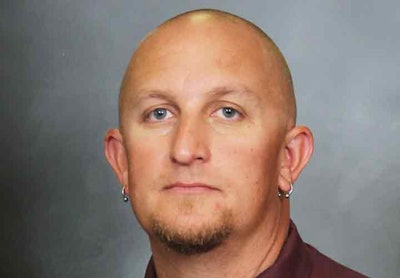 Sgt. Nathan Hutchinson of the Weber County (Utah) Sheriff's Office had no idea he and his narcotics strike force team would be shot at when they arrived to search for a pot growing operation in January 2012. Hutchinson braved gunfire to move two injured team members out of harm's way. He suffered four gunshot wounds and endured a lengthy recovery to return to duty. For his actions he has been selected as the March 2013 Officer of the Month by the National Law Enforcement Officers Memorial Fund.
On the night of Jan. 4, 2012, Sgt. Hutchinson led a team from the multi-jurisdictional Weber-Morgan Narcotics Strike Force in a drug raid in Ogden, Utah. Acting on an informant's information, they had obtained a knock-and-announce warrant. But, "it turned out the suspect had told the informant if the police ever came to his house he'd shoot it out with them," says Hutchinson. "If we'd known we would have approached it differently."
As it was, the team announced, waited, and entered the small split-level house with half of the team going upstairs and the other half going downstairs to clear the building. Marijuana was found growing in the basement.
"I was downstairs when I heard shots," Hutchinson says. "I came upstairs and saw Officer Shawn Grogan shot in the face. Shooting had stopped, so I didn't know what was happening. I took him out to a cop who took him to the hospital."
Hutchinson at that point thought the suspect had probably been killed. But then he heard more shooting and ran into the house. He was shot in the hip while retrieving wounded officer Kasey Burrell. After taking him to safety, Hutchinson returned for Agent Jared Francom.
"Once I got him out, I was firing back as well, but [the suspect] was in a concealed position so I was just trying to lay down cover fire to get officers out," Hutchinson says.
Burrell had been shot in the head and Francom had been shot seven times. Hutchinson had been shot four times, the last round shattering his right arm. He dragged Francom down the driveway with his still-working left hand and tried to stay on scene to help, but the sergeant was losing a lot of blood and was transported to the hospital.
"The guy was advancing on us the whole time," recalls Hutchinson. "The one thing you can't prepare for is how vicious the suspect ended up being. I'm proud of the guys. More could have been killed if we hadn't been there and helped each other."
An April 2014 court date has been set for the suspect, who faces capital punishment if convicted.
Weber-Morgan Narcotics Strike Force team members Officers Shawn Grogan and Kasey Burrell of the Ogden (Utah) Police Department, Jason VanderWarf of the Roy (Utah) Police Department, and backup officer Michael Rounkles of the Ogden (Utah) PD survived. Strike force agent Jared Francom died.
Hutchinson was shot in his side, his rib, and both arms. Multiple surgeries were required to repair his shattered right arm and to remove recurring infections. He has some permanent damage and lost range of motion, but he didn't let that keep him from getting back to work and resuming his position in the strike force. "After the last surgery, I feel better and I'm back to work full-time, full duty," he says happily.
In addition to being named NLEOMF Officer of the Month, Hutchinson received the Medal of Honor and Purple Heart from his agency, the Weber-Morgan Narcotics Strike Force, and the state of Utah. He received a lifesaving award from the strike force. "I appreciate it, and my two younger boys have gotten a kick out of the awards I've received," he says.
But the sergeant believes more attention should be given to the way people stood behind the involved officers, despite vocal criticism from the suspect's family. This was especially evident at Francom's funeral, where people lined up in the cold holding American flags.
"The support from the community opened my eyes," says Hutchinson. "Sometimes in this job I wonder if it's worth it, but to see the support for all of us involved was humbling."
Hutchinson also received support from his agency and others on his team, which he says was instrumental in his recovery. "I've learned a lot from [the incident]," he says. "Having prepared myself as a young cop helped me. And how close the group is has helped everyone get back to normal."
The sergeant says he doesn't approach his job differently now, but the incident made him realize what certain people are capable of. And it made him glad he was prepared to respond to the unexpected threat.
"Just prepare yourself mentally that there is evil in the world, and you might be in a position where you have to confront it," advises Hutchinson. "It's better to always go over scenarios in your head and how you would react."