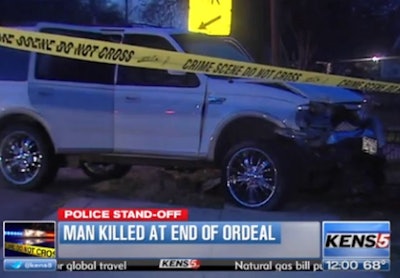 San Antonio Police SWAT officers shot and killed an armed Bexar County corrections officer following a four-hour stand-off broadcast live by a local news outlet.
Carrying an AR-15 rifle, Jimmy Garza, 31, rushed out of his house at 6 a.m. Monday toward SWAT officers. The deadly force encounter followed a bizarre string of events involving Garza and his ex-girlfriend, a co-worker at the parole department.
Gunfire was captured by KENS during a live remote from the home in the 900 block of Drury Lane.
Even though Garza and the woman had broken off their eight-month relationship, the two met Sunday night. Garza assaulted her in his SUV and concocted a plan to explain the injuries by crashing the SUV. The woman escaped and called 911, reports the San Antonio Express.