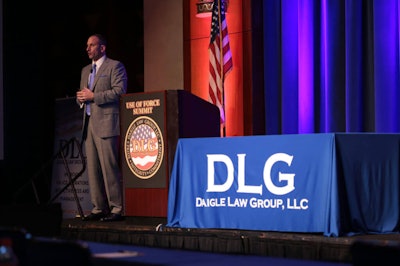 The Daigle Law Group is presenting the Use of Force Summit Dec. 3 through Dec. 5 at Mohegan Sun in Uncasville, CT.
Attendees at the Use of Force Summit receive training from some of the nation's finest instructors. "Those who attend will experience intense focused training that can be used to enhance their agencies' force policies, training, and investigations," says Eric Daigle, principle attorney for the Daigle Law Group and a former Connecticut State Police detective.
Courses offered during the three-day event will cover use-of-force law and other topics and trends involving law enforcement use of force. Issues covered include: use-of-force trends, de-escalation, review boards, use of force in corrections, finding hidden evidence in videos , policy training online with PowerDMS, dealing with the media after a use-of-force incident, and force investigations.
Attendees Should Expect:
* Three days of intense training from top expert instructors
* Interaction with attendees from across the country who can share ideas and lessons learned
* Digital access to actionable sample policies, presentations, videos, and handouts you can take back and share with your agency
* Breakfast, lunch, and snacks provided daily
* Invitation to an evening Social Networking Event (amenities included)
* Training certificate with hours at the conclusion of the Summit
Pricing for the Summit is $695 until Oct. 15. After Oct. 15 the price is $795. (Does not include lodging or travel.)
For more information, go to https://useofforcesummit.com.
Related Articles:
https://www.policemag.com/515599/officer-am-i-free-to-go
https://www.policemag.com/513739/affidavits-just-the-facts
https://www.policemag.com/506558/detention-incident-to-execution-of-search-warrant