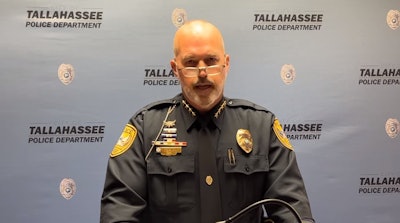 Early Monday morning a Tallahassee, FL, police officer was shot and wounded responding to a "targeted drug-related home invasion" robbery, police say. The officer is in stable condition after surgery.
The wounded officer was part of a group of officers who responded to what they thought was a burglary, Chief Lawrence Revell said during a press conference.
Arriving on the scene the officers quickly realized they had interrupted a home invasion.
One of the suspects fled and officers pursued. While the officers ran after the fleeing suspect, a second "involved suspect" fired on them from the targeted residence, Chief Revell said.
A pursuing officer was hit and wounded. The officers returned fire.
The wounded officer was listed as serious but stable, police said. The officer has not been identified.
Chief Revell praised the first aid response of the wounded officers fellow police. He said the wounded officer might not have survived without the quick attention and the quick transport by ambulance to the hospital.
The Tallahassee Police tactical unit responded to the scene and searched for the suspects.
At press time they have not been apprehended. They were described as three black males, Chief Revell said.
The chief had advice for the suspects. He said it would be safer for everyone, including the suspects, if they surrendered. "We will find you," he said.