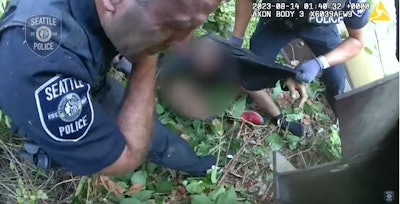 Video released by the Seattle Police Department this week shows officers suffering through a yellowjacket attack during the arrest of a carjacking suspect.
The incident happened during the evening of August 13 while officers were arresting a 22-year-old male carjacking suspect.
Shortly after 6:00 p.m., several 911 calls were received regarding a male suspect attempting to carjack multiple vehicles while armed with a knife. According to the victims, the suspect blocked traffic then attempted to stop and take vehicles. The suspect caused significant damage to multiple victim's vehicles as they passed, police reported in a press release.
Officers responded to the scene and found the suspect in a tunnel. The suspect ran and officers pursued on foot.
While the officers were taking the suspect into custody, both the officers and the suspect were stung by wasps several times. One of the officers also suffered a cut during the arrest, police said.
Both the officer and the suspect were transported to Harborview Medical Medial Center to treat their injuries. The suspect was then later booked into King County Jail for investigation of assault, property destruction, and attempted robbery.