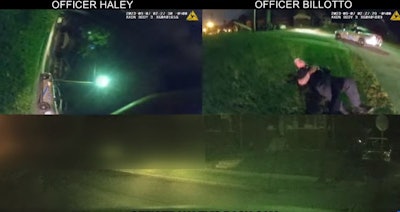 Louisville Metro Police has released multiple angles of video from a Sept. 7 ambush where an officer was shot in the Chickasaw neighborhood. The officer was fired upon from a residence during an early morning traffic stop.
Officer Brandon Haley was approaching the stopped vehicle when he was shot in the torso, the Courier Journal reports.
Officer Colin Billotto came to Haley's aid.
"To be clear, the individuals involved in this incident not only critically injured Officer Haley but they also endangered Officer Billotto's life and they placed everyone in that neighborhood in danger by repeatedly shooting in a densely populated area," police Chief Jacquelyn Gwinn-Villaroel said at the news conference.
Billotto dragged Haley for nearly an entire block, partly while on his knees, to a safer location while relaying the emergency situation to other officers.
Billotto provided first-aid to Haley. When more officers arrive, Billotto and others help Haley into the back of a police car, where he is then driven to University Hospital.
Haley remains hospitalized, but he is no longer in critical condition, Gwinn-Villaroel said.