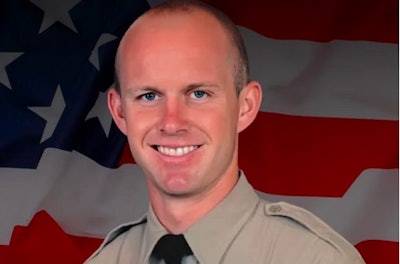 An arrest has been made in the Saturday evening drive-by ambush murder of Los Angeles County Sheriff's Deputy Ryan Clinkunbroomer.
Sources told Fox News that a suspect was identified Sunday following a tip. The sheriff department's Special Enforcement Bureau tactical team then went to a home in Palmdale – where the shooting of Clinkunbroomer happened Saturday – and made contact with a relative of the suspect who provided specific details about the case.
The male suspect inside that home then was taken into custody without incident after gas was deployed at the property, the sources added.
Clinkunbroomer was found shot and unconscious inside his patrol vehicle by a citizen, KTLA reports.
The critically wounded deputy was transported to the Antelope Valley Medical Center in Lancaster where he later died from his injuries. He leaves behind his fiancée, parents and grandparents.
Clinkunbroomer joined Palmdale station in 2018 and served as a field training officer for nearly two years. He was an eight-year veteran of the LASD.