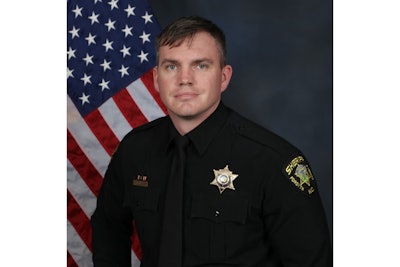 A Forsyth County (NC) Sheriff's deputy was killed Saturday morning in a crash in Davidson County. Deputy Sheriff II Auston Smith Reudelhuber was driving to work, the Forsyth County SO reports.
Deputy Reudelhuber's patrol vehicle was reportedly hit by a box truck around 5:16 a.m. He was transported to a local hospital where he succumbed to his injuries.
The truck's driver has been charged with misdemeanor death by motor vehicle, reckless driving, and driving left of center. He was not injured.
Reudelhuber, 32, joined the Forsyth County SO in March 2021. He was assigned to the Field Services Division, and was a Field Training Officer. Prior to his service with Forsyth County, Deputy Reudelhuber was employed by the Davidson County Sheriff's Office for over three years.
Reudelhuber is survived by his wife and two children.
"It is with a heavy heart that we share the news of the passing of one of our own. Deputy Sheriff Auston Reudelhuber was killed this morning in a fatal car crash. We are asking for prayers for the Reudelhuber family as well as for our FCSO Family. Together we stand and together we will get through this, with the support from our community," Sheriff Bobby F. Kimbrough, Jr. said on Facebook.