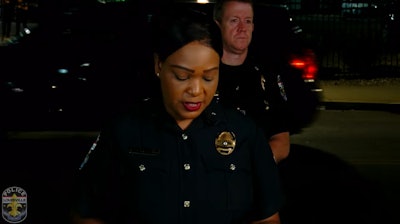 A Louisville Metro Police officer was ambushed and critically wounded early Thursday during a traffic stop. Police say the shooter opened fire from a nearby home.
LMPD Chief Jacquelin Gwinn-Villaroel said an officer from LMPD's 2nd Division was conducting a traffic stop around 2:30 a.m. with an assist from a backup officer.
During the traffic stop, a person inside of a house began firing at the officers and struck the 2nd Division officer in the torso, WLKY reports.
Chief Gwinn-Villaroel says the officer is in critical but stable condition.
There was a standoff at the house for more than six hours, and at least two, possibly more, people were brought out in handcuffs.