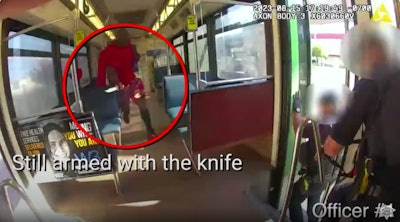 The Sacramento Police Department has released body camera video of officers trying to talk down a disturbed man brandishing a large knife on a light rail train. The incident, which happened August 15, ended with a fatal officer-involved shooting of the subject.
Dispatch received calls from two riders on the train who exited the car when they saw the armed subject.
Two officers engaged the subject on the train, trying to talk him down and giving him space.
The video shows the subject stand up while wielding the knife and the subject being shot with bean bag rounds by one officer.
The bean bag rounds did not stop the man. He charged at the officers and was shot multiple times, the video shows.
"After officers discharged their firearms, they requested fire personnel, a medical kit, additional resources, and developed a plan for a safe approach. After approximately three and a half minutes, officers approached the individual, removed the knife from his person, and began rendering medical aid," Sacramento Police said in a statement.
This incident is being investigated by the Sacramento Police Department's Homicide Unit, Internal Affairs Division, and Professional Standards Unit. The Office of Public Safety Accountability and the Sacramento County District Attorney's Office are providing oversight by monitoring the investigation.