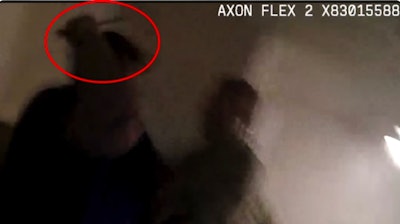 A 25-year-old woman who was killed by Las Vegas police investigating a domestic battery complaint early Friday morning slashed one officer in the head before she was shot by another officer, according to body-worn camera video aired for reporters on Monday.
Sandra Lopez-Ochoa wielded a kitchen knife with an overhand motion to wound the officer as he began to pull her by the wrist from a seat on a couch in an East Las Vegas apartment, according to the video and a description by Assistant Clark County Sheriff Sasha Larkin. Lopez Ochoa was 5'10" and 450 pounds according to Larkin.
Officer Rudy Sacba fired five shots from his 9mm handgun, killing Lopez-Ochoa, Fox 5 and the Associated Press report.