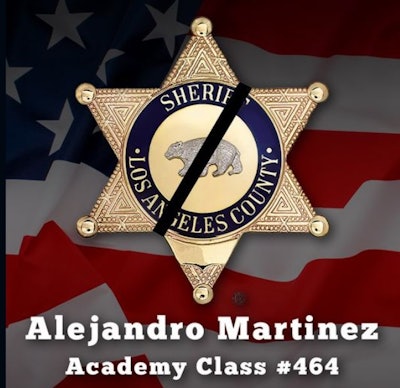 Following an eight-month hospitalization, a Los Angeles County Sheriff's Department recruit succumbed to his injuries sustained after being struck by a wrong-way driver in Whittier in November 2022.
Alejandro "Alex" Martinez was one of the 25 cadets from various law enforcement agencies across LA County who was on a training run on the morning of Wednesday, Nov. 16, 2022. Around 6:25 a.m., the driver of a Honda CR-V plowed into the members of Academy Class 464 and a light pole near the intersection of Mills Avenue and Telegraph Road, the California Highway Patrol said.
Upon impact, firefighters with LA County Fire Station 96 heard a loud crash and immediately rendered aid to the cadets and called for additional resources. Authorities said 20 law enforcement vehicles from various agencies responded to the scene, Fox LA reports.
"Surrounded by his family, friends, Sheriff (Robert) Luna, and other department members in support of his family, Alejandro has now gone to his eternal resting place," an LASD statement said. "Tragically, he was not able to fulfill his calling of helping others. Our condolences go out to Alejandro's family, friends, and academy classmates. He will forever live in our hearts and never be forgotten. Words cannot express the extent of our gratitude to everyone who assisted, and continue to assist, and helped ease the burden of that very difficult day."
Martinez is survived by his parents, Arturo and Olga Martinez, and his sister Dianna Martinez.
The driver who struck the cadets, Nicholas Joseph Gutierrez, 22, of Diamond Bar, told reporters in 2022 that he fell asleep at the wheel, the Whittier Daily News reports.
He was arrested hours after the crash and booked on suspicion of attempted murder of a peace officer, but Guiterrez was released a day later with sheriff's officials saying the complex case needed more extensive investigation.