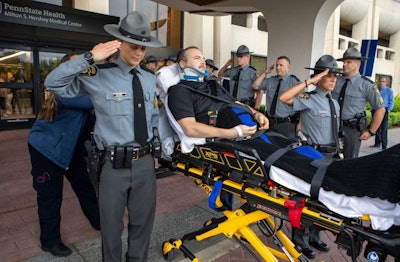 A Pennsylvania State Police lieutenant who was critically wounded in a multi-location attack against state troopers on June 17 in Juniata County was released from the hospital Monday.
Police say the suspect who shot Lt. James A. Wagner also ambushed and killed Trooper Jacques Rougeau Jr. on the same afternoon. The suspect was killed in a fierce gun battle with police.
Following the shooting, Wagner was taken to Lewistown Hospital and then life-flighted to the Milton S. Hershey Medical Center, Fox 56 reports.
The hospital made the announcement that Wagner was being discharged after a long stay, and his next steps in recovery will be at a rehabilitation facility.