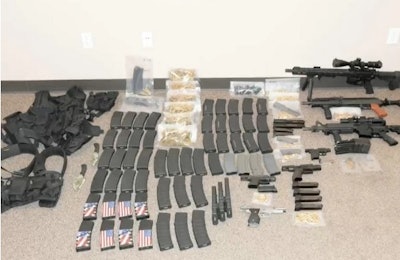 Authorities believe a man who shot three Fargo, ND, police officers Friday afternoon, killing Officer Jake Wallin and critically wounding two other officers, planned a much larger attack, according to North Dakota Attorney General Drew Wrigley.
Investigators found three rifles, 1,800 rounds of .223 caliber ammunition, a homemade grenade, a can of gasoline, explosives and other firearms in Barakat's car, Wrigley said.
Inforum.com reports that Barakat may have planned to attack a crowded street fair in downtown Fargo.
"Mohamad Barakat engaged in a savage attack," Wrigley said of the ambush targeting the officers. "He unleashed what can only be described fairly as a murderous barrage of fire."
Four Fargo officers were responding to a traffic accident, two field training officers and their trainees, when they were ambushed. The shooter was not involved in the accident.
The shooting, which lasted roughly two minutes, killed 23-year-old Officer Wallin and critically wounded Officer Tyler Hawes, 22, and FTO Officer Andrew Dotas, 28. Barakat also shot Karlee Koswick, a Boston-area woman who recently moved to Fargo, as she stood on the sidewalk, Wrigley said. She was reportedly involved in the crash.
Barakat was killed by Fargo Officer and FTO Zach Robinson. The attorney general said the shooting has been ruled justified.
Officer Dotas and Officer Hawes remain hospitalized in critical but stable condition.