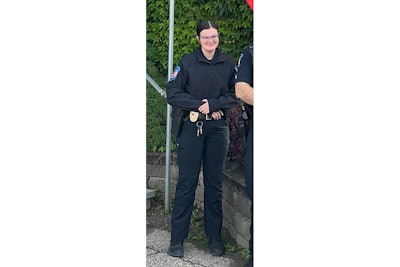 A 19-year-old Rutland, VT, police officer was killed in a head-on crash Friday afternoon when her patrol vehicle was hit by a truck driven by a 20-year-old man who was reportedly fleeing police.
Officer Jessica Ebbighausen was pronounced dead at the scene, VTDigger.org reports.
Two other officers, including a passenger in her vehicle and one driving another cruiser, and Tate Rheaume were injured in the crash.
Rheaume, 20, is facing charges of grossly negligent operation of a motor vehicle with death resulting, and attempting to elude with death resulting.
Ebbighausen had been working with the department for less than two months — since May 23 — as a part-time, Level 2-certified officer, police said. She was scheduled to begin training at the Vermont Police Academy next month to get her full-time certification.
"Evidence gathered at the scene indicates that Mr. Rheaume crossed the center line into the eastbound lanes and collided with Officer Ebbighausen's cruiser, causing catastrophic damage to both vehicles," Vermont State Police said. "Mr. Rheaume's truck then struck the second eastbound Rutland police cruiser."