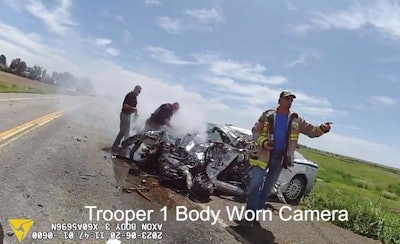 The Colorado State Patrol this week released video, from both dashcam and body-worn camera footage, of when a suspect stole a trooper's car and then later crashed into a tractor-trailer after running over a spike strip. The suspect died from injuries sustained in the crash.
The situation started when troopers responded to assist Otero County deputies June 20 in pursuit of a vehicle reported to have been connected to a "shots fired" call, reports 11News, one of the local media outlets that aired the video. The state patrol reports the fleeing suspect was reported to have caused multiple crashes and attempted to cause head-on collisions with other vehicles.
Troopers performed a tactical vehicle intervention to stop the suspect vehicle during the original pursuit, the agency said in a media release.
However, after being cuffed and placed into the back of a trooper's patrol vehicle, the male suspect was able to slip his cuffs under his feet and climb into the driver's seat of the marked vehicle.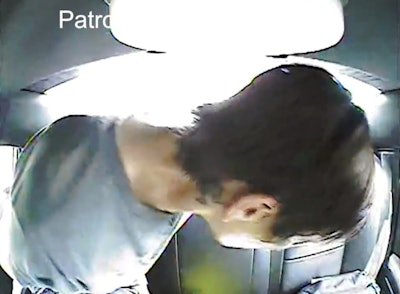 The state patrol reports that troopers and officers on the scene pursued the man in the stolen patrol vehicle and spikes were deployed.
"After hitting the (spike strip), the suspect in the patrol vehicle lost control, crashed into the side of a stopped commercial motor vehicle parked on the side of Highway 50 and caught on fire," the state patrol said in a media release.
That same media release states the driver suspect was removed from the wrecked patrol vehicle and was transported to an area hospital, where he died. The driver of the tractor-trailer was not injured in the collision.