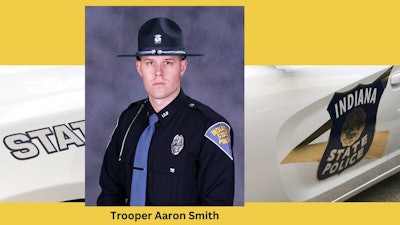 An Indiana State Trooper died Wednesday night after being struck by a fleeing vehicle while he was deploying spikes. Trooper Aaron N. Smith, 33, served with the Indiana State Police for nearly five years.
"This is a tremendously sad day for the entire Indiana State Police family. We will band together as we always do in support of Trooper Smith's family, friends, and co-workers," said Indiana State Police Superintendent Douglas G. Carter. Smith is survived by his wife.
The preliminary investigation by the Indiana State Police indicates that at approximately 8:40 p.m. Smith was assisting other troopers with the pursuit of a stolen vehicle.
"Trooper Smith was struck by the suspect vehicle and critically injured. Emergency medical care was rendered at the scene, and he was rushed to Eskenazi Hospital, where he succumbed to his injuries," the agency said in a statement.
Arrests
Eddie P. Jones, Jr., 18 years of age from Sikeston, MO, who the state police said was driving the stolen 2016 Chevrolet Traverse, has been preliminarily charged with murder, a Level 1 felony.
The adult passenger, DeMareon L. Curry, 19 years of age from Sikeston, MO, has been preliminarily charged with auto theft, a Level 5 felony.
A 15-year-old female, who was listed as a missing person from Missouri, was turned over to authorities from that state. She is not being charged in connection with this incident.
The Hendricks County prosecutor will make the final determination of these preliminary charges and will review the potential for additional criminal charges.