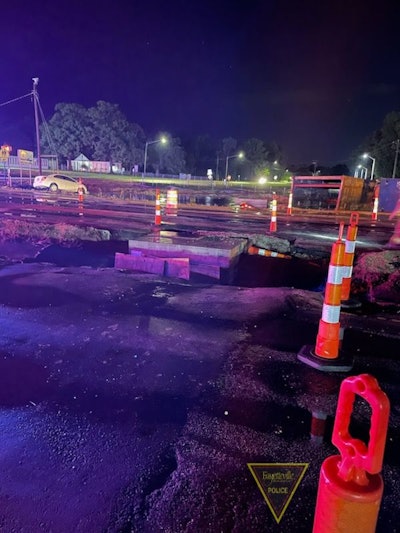 A Fayetteville, NC, police officer was injured after he was pushed into a sinkhole Monday night by an 18-wheeler that slammed through a barricade.
Kem Braden, Fayetteville's police chief, said the injured officer, D. Pressley, is recovering at home after the accident.
Another police officer arrived and began tending to the stuck and injured officer. While waiting for paramedics to arrive, Pressley was able to sit up before he was taken away in an ambulance.
"When officers were attempting to close off the road ... there was a vehicle that was driving too fast for conditions and actually struck the officers' cars as they were out there and pushed the officer into the hole," Braden told WRAL.
The driver of the tractor-trailer, whose vehicle first fell into the sinkhole, also stayed on the scene. He had hit the brakes on his tractor-trailer when he saw the police barricade for where the sinkhole was, but started sliding and hit the police car.
The driver of the truck was charged with failure to reduce speed and traveling too fast for conditions.