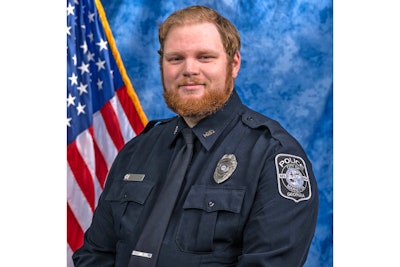 The National Law Enforcement Officers Memorial Fund (NLEOMF) has named Patrol Officer Austin Martin of the Marietta (GA) Police Department as Officer of the Month for May 2023. Officer Martin is being honored for saving a suicidal woman.
In the early morning of May 11, Marietta officers responded to a 911 call reporting a suicidal woman on a bridge that crosses over a major highway, I-75. Officer Martin, a recent academy graduate with less than two months of independent work as a patrol officer, was first to arrive on the scene. He quickly and confidently approached the woman as she was scaling the fence and calmly opened a dialogue with her. His deep empathy along with his genuine and earnest desire to help established a strong rapport with the woman. Their immediate bond was so strong, that the woman became angry when other officers tried to approach, as she only trusted Officer Martin with being so close. For almost an hour, as other units stopped traffic and created space for their ongoing intervention, Officer Austin remained calm and continued trying to convince the woman to climb back over the fencing to safety.
At a certain point during the dialogue, the fatigued woman looked as if she was going to fall. Officer Martin quickly laced his fingers on top of hers through the fence and was able to hold her long enough for other officers to approach and assist. With multiple officers struggling to keep her from falling, they kept her in place just long enough for a ladder truck to approach which lowered her to safety.
Officer Martin found himself at the center of a life and death encounter, and he held onto a woman in crisis first emotionally and then physically, ultimately saving her life in the process. Thankfully, and in large part because of the actions of Officer Martin, the woman is now safe and receiving the help she needs.
"Officer Martin exemplifies the very best of the law enforcement profession, and serves as a shining example of bravery, compassion, and dedication," said Bill Alexander, executive director of the National Law Enforcement Officers Memorial. "We are humbled and proud to honor Officer Austin Martin as our Officer of the Month for May 2023."
The Officer of the Month Award Program is sponsored by the Police Unity Tour and recognizes federal, state, and local officers who distinguish themselves through exemplary law enforcement service and devotion to duty.