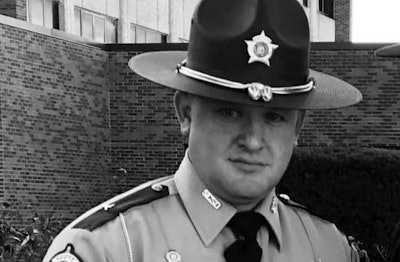 A Scott County, KY, sheriff's deputy was shot and killed during a traffic stop on Monday afternoon.
According to Scott County Sheriff Tony Hampton, Deputy Caleb Conley was shot during a traffic stop at around 4:48 p.m. Monday on I-75 southbound in Georgetown.
The suspect, identified by police as Steven Sheangshang, fled the scene after the shooting, Kentucky State Police told WLWT.
About an hour later, officers in nearby Lexington were dispatched to a shooting and found a male victim who said another man shot him and stole his vehicle, according to police.
Police said they used a license plate reader system, traffic cameras and other information to locate the stolen vehicle and then found Sheangshang at a nearby home where he was taken into custody.
The Fayette County Attorney's Office said Sheangshang had an outstanding warrant in Fayette County before all of this and was the "wanted person of the week," according to a post from Bluegrass Crime Stoppers. Sheangshang is a convicted felon.
Deputy Conley leaves behind a wife and small children, as well as his parents, according to the sheriff.