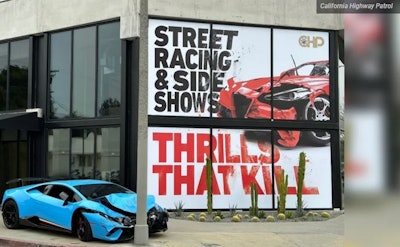 Hoping to halt illegal sideshows and street racing, the California Highway Patrol is rolling out new billboards across the state, including one accompanied by an actual crashed super car in the Melrose district of Los Angeles.
The wrecked car installation also features the messaging "Street Racing & Sideshows – Thrills That Kill." It's one of more than 50 displays being set up statewide to remind the public about the dangers and consequences that come with attending and participating in sideshows and street racing.
The public can expect to see the billboards during the summer in areas where sideshows and street racing are prevalent, including the Bay Area, Los Angeles and the Central Valley, NBC reports.
"Illegal street racing and sideshows put lives at risk, upset the quality of our neighborhoods, cause damage to private and public property, and in some cases, have resulted in the death of innocent people," CHP Deputy Commissioner Troy Lukkes said in a statement. "Through our ongoing efforts we want to send the message throughout California that this dangerous and illegal activity will not be tolerated."
Back in 2021, the CHP responded to over 7,300 sideshow incidents statewide that included about 123,000 participants. The number of incidents dropped by about half in 2022. Nonetheless, the CHP says sideshows have been happening at an "alarming" rate and continue to get larger and more dangerous.