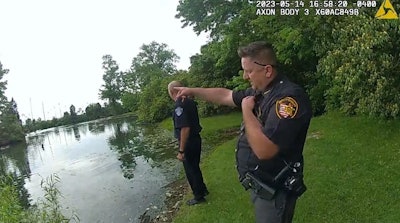 Two Blue Ash, OH, police officers are being called heroes after rescuing an autistic child from a pond on Sunday.
The family of the 6-year-old child, who is non-verbal, reported her missing just after 4 p.m. Sunday afternoon, ABC6 reports.
Blue Ash Police Sgt. Todd Stewart and Officer Tim Bittner arrived on scene to find the 6-year-old in the middle of the pond.
The officers removed their equipment – including their body cams – and entered the pond.
The girl was brought to shore and reunited with her family, shaken up but unharmed. It was the ideal outcome for a tense situation thanks to some quick-thinking officers.