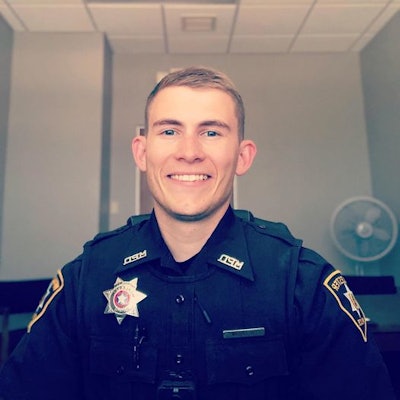 A McAlester, OK, police officer died Monday from injuries he suffered in a crash Friday night while escorting the body of another officer.
Officer Joseph Barlow, 25, was involved in a head-on collision with a pickup truck while assisting in a funeral procession for McAlester Police Captain Richard Parker.
Authorities say Martin Rivas Rodriguez was driving a black Ford pickup when it crossed the center line and hit Barlow's vehicle head-on, KTUL reports.
Rodriguez was booked into jail with charges of causing an accident without a driver's license, causing great bodily injury, driving without a license, and reckless driving.
Captain Richard Parker was found dead in his home Thursday, McAlester News reports.
A cause of death was not reported, but Police Chief Kevin Hearod, who was at the scene, said there was no sign of foul play or violence. He said Parker appeared to be resting peacefully on his pillow.