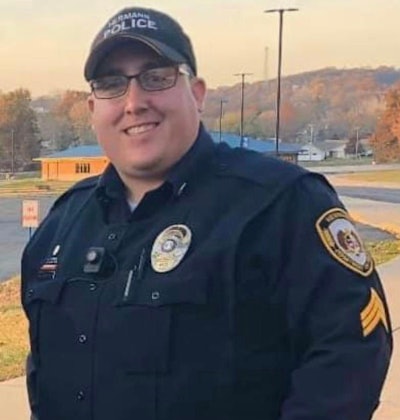 A Hermann, MO, police detective was killed and an officer was wounded in a shooting at a local convenience store Sunday night. A suspect was captured Monday afternoon.
Hermann Detective Sgt. Mason Griffith died at a hospital after being shot just before 9:30 p.m., the Missouri Highway Patrol announced early Monday.
A second officer—Adam Sullentrup—was wounded. He was in serious condition at a local hospital Monday, troopers said.
The St. Louis Post-Dispatch reports that suspect Kenneth Lee Simpson, 35, of St. Louis County was taken into custody Monday afternoon by a police tactical team that used a robot, a drone, flash-bang grenades, and tear gas. He reportedly fled from the scene of the shooting to a house on foot.
Simpson has a lengthy criminal record including drugs and weapons offenses, according to the paper.
Police would not say what led to the shooting.