Police have charged 23 people with domestic terrorism after a violent clash between police and protesters at the site of Atlanta's future Public Safety Training Facility, nicknamed "Cop City" by critics.
Sunday night, police say the DeKalb County construction site was on lockdown as crews worked to put out flames around the area.
Officials say around 5:30 p.m. Sunday, dozens of protesters left the nearby South River Music Festival, changed into black clothing, and entered the site of the proposed police training center, Fox 5 reports.
"This was a very violent attack that occurred, this evening very violent attack," Atlanta Police Chief Darin Schierbaum said in a press conference near the scene.
A video released by Atlanta Police shows what appears to be fireworks aimed at officers. In the same video, you can see items including rocks and Molotov cocktails being thrown by protestors in the direction of police, a tipped-over vehicle that later became engulfed in flames, and protestors attempting to set other pieces of construction equipment on fire.
Several area agencies responded to the attack. No officers were injured.
Officers used less-lethal force making the arrest and some suspects were taken for medical attention.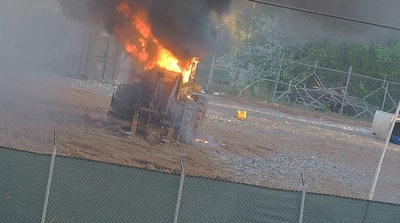 Construction equipment was burned at the site.
Chief Schierbaum said the attack was an escalation of protests at the site. He added that police would take additional measures to secure the site.
"Actions such as this will not be tolerated," he said.
The Georgia Bureau of Investigation and the FBI are investigating.