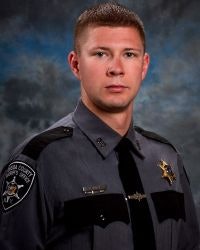 An Oneida County (N.Y.) Sheriff's deputy with almost four years of service was fatally shot by a man who had barricaded himself in his Augusta home, after threatening to kill his live-in girlfriend.
After a six-hour standoff and fruitless negotiations with the subject, Oneida deputies attempted to take Christian Patterson, 41, into custody early Tuesday morning.
Patterson, armed with a shotgun, fatally shot Deputy Kurt Wyman, 24, and fired at Investigator David Nowakowski. Wyman initially responded to the scene and was involved in the negotiations.
At the time of his death, Deputy Wyman served as a sergeant in the U.S. Marine Corps reserves. He had served in Iraq with the Second Battalion 25th Marines Fox Company and was awarded the Iraq Campaign Medal (with one bronze service star), Sea Service Deployment Ribbon, Armed Forces Reserve Medal and Navy and Marine Corps Achievement Medal, according to the agency.
Deputy Wyman is survived by his wife Lauren, 18-month-old son, and daughter who was born the evening of her father's death.
Source: Oneida Dispatch