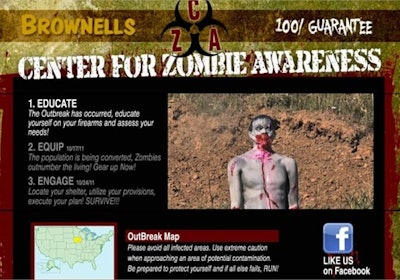 The newly formed Brownells Center for Zombie Awareness (CZA) Web site includes a three-phase defense plan, offering visitors ways to "educate," "equip," and "engage" the undead.
The Center For Zombie Awareness was created, as company President Pete Brownell said, "because we all know the zombie outbreak is coming and we want our customers to be educated, equipped and ready to engage the undead."
Videos from "Matt and Josh" posted to Web site give helpful tips, such as, "If you can only afford one firearm, then hands down the best choice is a 12-gauge pump shotgun."
The site also includes an "outbreak map" and products such as a Rapid Deployment Pack and Trauma Kit, Mossberg Kick-Lite Tactical Stock, and AR-15 Stripped Lower Receiver. Links to the "Zombie Me" Web site and zombie shooting games are also included.
"Halloween is a well-known time for the recently deceased to become re-animated," Brownell added. "The CZA will play a vital role in winning the coming Zombie apocalypse. That's why we urge all concerned citizens to visit the CZA site immediately."