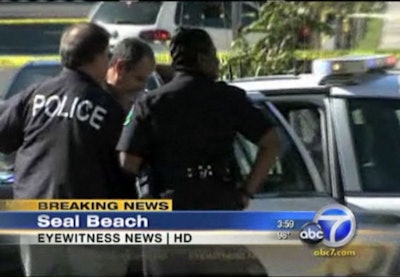 A man opened fire inside a crowded hair salon in a sedate southern California city, eventually killing eight people and critically injuring a ninth as they desperately tried to flee.
The man's ex-wife, Michelle, worked at the salon and was among the dead, along with the owner of Salon Meritage. Michelle had taken out a restraining order against him, fearing he may turn violent.
Seal Beach (Calif.) Police officers took the man into custody during a traffic stop without incident about half a mile away from the Pacific Coast Highway salon. He was driving a white pickup truck. Initial 911 calls reported the shooting at 1:30 p.m. Wednesday.
The man may have been wearing body armor and had multiple weapons in his Toyota pickup truck when arrested.
Six people died at the salon, and three were transported to Long Beach Memorial Hospital for treatment. Two of those three succumbed to injuries. Police took relatives of the victims to a nearby spiritual center.
The shooting is believed to be Orange County's deadliest mass shooting. Previously, the worst mass-killing was in 1976, when Edward Charles Allaway shot nine people and killed seven at Cal State Fullerton.
Sources: Orange County Register, CBS News, NBC News