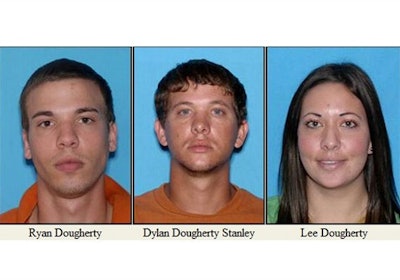 The fugitive Dougherty siblings were apprehended in southern Colorado this morning, after leading state patrol officers on a 100mph chase.
Lee Grace Dougherty, 29, Ryan Edward Dougherty, 21, and half-brother Dylan Dougherty Stanley, 26, crashed their car. Lee Dougherty was shot in the leg.
Southbound lanes of Interstate 25 have been closed north of Walsenburg because of the police activity, reports the Denver Post. The Colorado State Patrol confirmed on Twitter there was a short pursuit of the three fugitives this morning that ended in a car crash.
Source: Denver Post
Related: Heavily Armed Fugitive Sibling Trio Fired on Officer, Robbed Ga. Bank