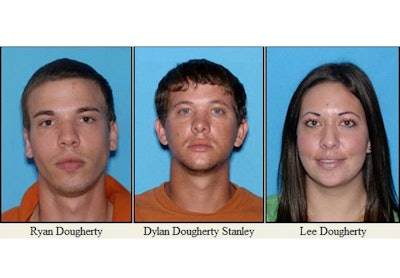 Two brothers and their older sister may be hiding in Tennessee, after firing at a Florida police officer and robbing a bank in Georgia.
Ryan Dougherty, 21, sister Lee Grace Dougherty, 29, and half-brother Dylan Dougherty Stanley, 26, have been on the run since Aug. 2 when they allegedly shot at a Florida police officer attempting to pull over their white Subaru Impreza for speeding. A few hours later, they allegedly robbed a bank in Georgia.
The incident began the morning of Aug. 2, when Zephyrhills (Fla.) Police Officer Kevin Widner attempted to pull over a white Subaru Impreza occupied by the Dougherty siblings. The vehicle, which has a New York license plate, was clocked at 45 mph in a 30 mph zone.
Officer Widner pursued the vehicle at speeds reaching 100 mph westward on State Road 54, leaving the Zephyrhills city boundary into the Pasco County Sheriff's jurisdiction.
An occupant of the vehicle fired at the officer near Allen Road. The pursuit continued to Morris Bridge Road near a CVS pharmacy, when the suspects again fired at the officer, puncturing the cruiser's tire with a round. The suspects were last seen heading north on Oakwood Drive.
Shortly after noon that same day, the suspects are believed to have robbed Certus Bank in Valdosta, Ga. Police believe the three entered the bank dressed in black with masks, fired shots at the ceiling, and instructed everyone in the bank to get down. Two brandished weapons, including a machine pistol and AK-47.
They collected an undisclosed amount of money and fled in a white, four-door sedan. The Doughertys are believed to be heavily armed.