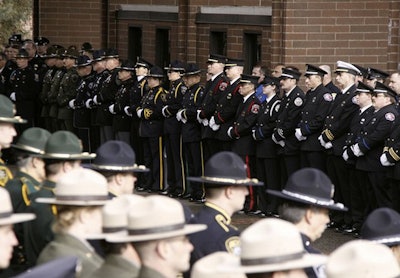 As a National Park Service ranger, Margaret Anderson was adept at pointing out the best hiking trails on Mount Rainier, rescuing lost hikers, bandaging damaged limbs, putting out fires, and taking scofflaws into custody.
Anderson's life was celebrated during a memorial service held less than two weeks after her duty death in the park on New Year's Day. About 3,000 well-wishers paid tribute to Anderson, who was fatally shot by an ex-soldier while setting up a roadblock.
Anderson's love of nature, and her devotion to family and God were the focus of many remembrances, reports the Seattle Times.
Anderson was fatally shot by 24-year-old Benjamin Barnes, who blew a chain-up checkpoint and opened fire on her in a remote area of the park. The shooting triggered a 24-hour manhunt, and Barnes was later found half-submerged in a creek. His death was caused by drowning and hypothermia.
At the service, presentations were made by Secretary of the Interior Ken Salazar, National Park Service Director Jonathan Jarvis, Mount Rainier Superintendent Randy King, and Gov. Chris Gregoire.
The National Park Service will conduct a meticulous review of the shooting, Director King announced Wednesday, the News Tribune reports.