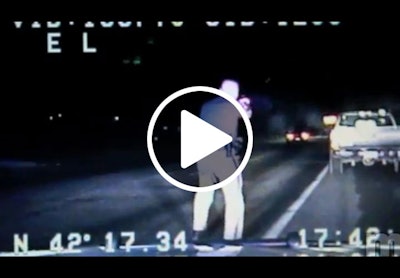 VIDEO: Mich. Deputy Returns Fire at Vehicle Stop
A simple traffic violation turned into a gunfight for Kalamazoo County (Mich.) Sheriff's Deputy Jeff Nichols, after the deputy pulled over a Chevy Silverado for blowing through a traffic light.
Deputy Nichols pulled over the black Silverado at about 7 p.m. Friday, while patrolling with reserve deputy Jeremy Conley. In video from his patrol car, Deputy Nichols can then be seen approaching the driver's side of the truck.
As he approaches the window, several shots fired by the driver sail past him. The deputy backs up, unholsers his pistol, and returns fire as the truck speeds off.
Police say the driver was Wililam R. Wright Jr., 28, of Kalamazoo, and the passengers included his brother, Christopher A. Wright, 25, of Portage, and another individual who hasn't been identified.
The Wright brothers were apprehended later on Friday.